Line Randomizer
Have you ever had a long list of items that you need to randomize? This Line Randomizer tool can help you with that!
This tool allows you to take any text separated by new lines and shuffle it up in just a few clicks. Whether you have a list of questions for a quiz, a set of tasks for your team, or just a collection of quotes you want to mix up, the Line Randomizer tool can make it happen.
How to use the Line Randomizer tool?
Paste your text into the "Input" field.
Select whether you want to skip empty lines or not.
Click the "Generate" button.
Get your randomized results!
If you want to, you can shuffle them again by clicking the "Generate" button.
For example: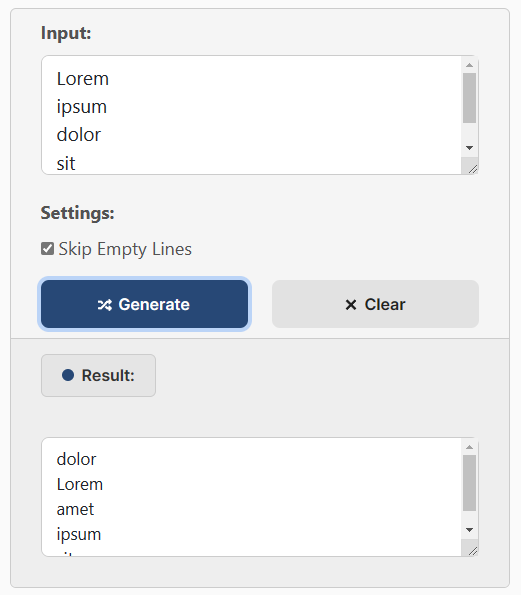 How does it work?
The given lines are converted to an array. After this, the array is shuffled, skipping empty lines optionally. At the end of this process in the result field, appears the text, with new randomized order. Since it is randomized, remember there is also a chance to get the results in the same order.
Examples
Input
Result
Michael
George
Patricia
Patricia
Michael
George
Lion
Dog
Cat
Dog
Cat
Lion