/

/

Pine Straw Coverage Calculator
Pine Straw Coverage Calculator
Usually each bale covers approximately 35-45 square feet.
Pine Straw Coverage formula
Total bales needed = Length (ft) * Width (ft) / Bale Coverage (sqft)
Important: Remember to round the result up to the nearest integer.
For example, let's say yoour are length is 15 ft, width is 35 ft, and bale coverage is 40 sqft.
Total bales needed = 15 * 35 / 40 = 13.125 ≈ 14
How to use this calculator?
Calculate how many Pine Straw Bales you need to cover the specific area.
Enter the area length (in feet)
Enter the area width (in feet)
Enter the bale coverage (in square feet)
For example: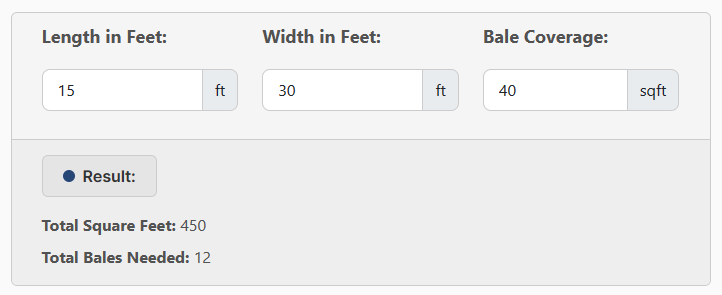 Examples
| Length | Width | Bale Coverage | Bales Needed |
| --- | --- | --- | --- |
| 10 ft | 20 ft | 35 sqft | 6 bales |
| 15 ft | 30 ft | 40 sqft | 12 bales |
| 50 ft | 20 ft | 38 sqft | 27 bales |
| 50 ft | 20 ft | 45 sqft | 23 bales |
| 80 ft | 120 ft | 42 sqft | 229 bales |
| 40 ft | 40 ft | 38 sqft | 43 bales |